sexta-feira, 20 de janeiro de 2012
How the Internet blackout affected congressional support for PIPA/SOPA
: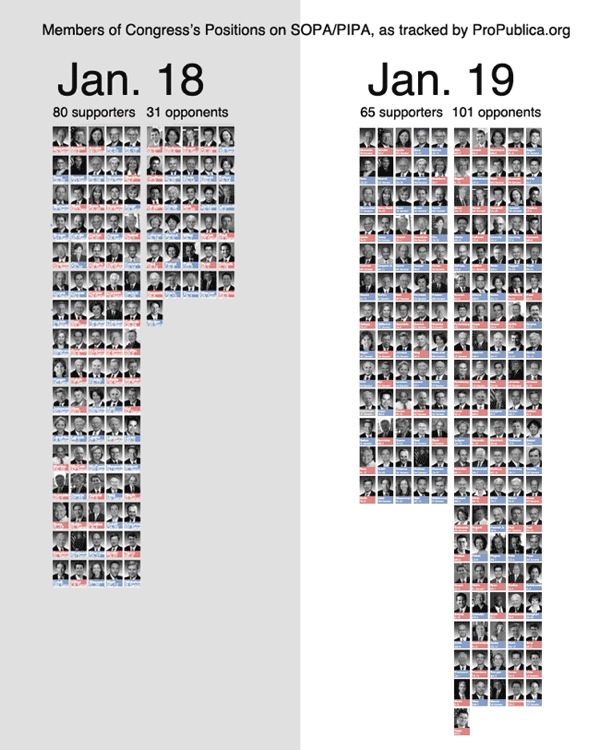 Amy Seidenwurm says: "Pro Publica posted a simple/powerful image of the members of Congress' position on SOPA/PIPA today vs. yesterday."
SOPA Opera Update: Opposition Surges
Colbert explains how to deal with Internet censorship protests
:
Stephen Colbert provides some perspective on the net-wide blackouts yesterday, as well as some alternatives in case the Internet needs to stand up for itself again. Now I've got to find that video of Vader eating cheesy bread...




quinta-feira, 19 de janeiro de 2012
terça-feira, 17 de janeiro de 2012
Some Help when googling
:

Submitted by: rafamfc

Posted at: 2012-01-14 23:31:27

See full post and comment: http://9gag.com/gag/1836348

Minha lista de blogs
How WaPo Broke the News on Roy Moore

-

How Washington Post journalists broke the story of allegations against Roy Moore. . Source: Washington Post The post How WaPo Broke the News on Roy...

Há 7 horas

Trading Psychology Challenges - 8: Complacency and Overconfidence

-

Unless you as a trader operate with a consistently high hit rate on your trades--far and away the exception in directional trading--then you're likely to ...

Há um dia

Weekly Market Recap Dec 3, 2017

-

After the NYSE McClellan Oscillator flipped back positive, we went out of our cautious stance and this week rewarded the bulls with significant gains Tuesd...

Há uma semana

Weekly Market Recap Dec 3, 2017

-

After the NYSE McClellan Oscillator flipped back positive, we went out of our cautious stance and this week rewarded the bulls with significant gains Tuesd...

Há uma semana

Bank of England Speeds Through Bond Buys

-

Two weeks after buying its first corporate bond, the Bank of England has already spent over 10% of the funds allocated to its 18 month asset-buying program.

Há um ano

Tech's Most Useless Big Shot

-

Creative Artists Agency is reportedly discussing opening a Silicon Valley office where tech executives would become "rock stars." And they may start with...

Há 6 anos

Low Volume Melt Up

-

*FN:* On the way down there is volume. On the way up, there is less... waaaay less (especially for this time of the year). Can you say algos? So what does...

Há 8 anos