This Week in the Digital Photography School Forums (4-10 Sep '11)
:
Weekly Assignment
We finished up our Found Objects assignment this week. Some people really did well with noticing new things that they might not have otherwise noticed, and some people interpreted the concept in an interesting way. Our winners did both. We had a tie this week for first place between Obijuan and cristen. Obijuan interpreted the assignment in a rather creative way with his found broom. In this shot it's really the expression on the girls' faces that makes it. Not to mention a really well done shot overall.
cristen spotted something that was unlikely to be noticed unless you were looking for it, and that was a small plant in the window panes. The contrast of the rust against the newness of the plant created a very nice shot.
And last, but not least was RC Nofrada's shoes on a wire. We're all used to seeing birds on wires, but you don't always see shoes there, and you especially don't always see such new looking shoes! This was one of the shots that really matched the idea of found objects well and there's a nice clear contrast between the blue and black.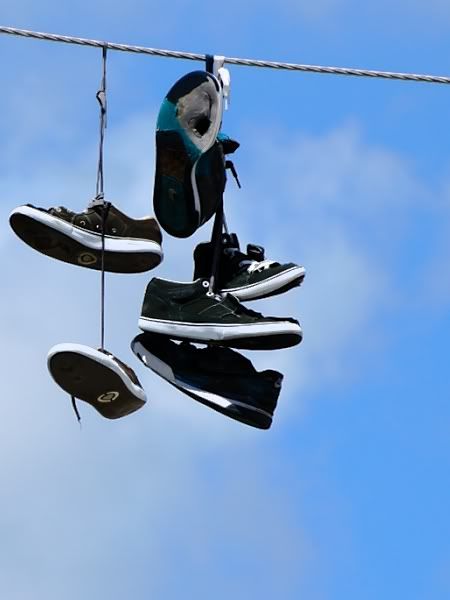 Nicely done guys!
We started our Cameraphone assignment this week too. Lots of us have cameras in our phones these days, and it can be really helpful for when you don't happen to have your main camera with you. We want you to show us how you can use your camera phone to prove that its' the photographer, not the gear that makes a great shot and shoot with your camera phone this week. As always though, a quick reminder of our weekly assignment rules. First, your photo must have been taken between 31 August and 15 September 2011. Second, your post must include the words "Cameraphone Shots" and the date the photo was taken. Finally, your EXIF should be intact, and it's useful if you can include some of the main points, such as camera, lens, shutter speed, and aperture.
Our next assignment will be Horizons. Next week we will be doing a landscape shot with particular emphasis on the horizon. I want you to make the horizon line the focus of your image. Cityscapes, mountains, lakes, oceans, treelines, all can make interesting horizon lines. Try using lighting – sunrise, sunset, or manmade – , contrast, reflections, and/or colour to bring attention to your skyline. And don't forget to keep your horizons horizontal!
Post from: Digital Photography School's Photography Tips. Check out our resources on Portrait Photography Tips, Travel Photography Tips and Understanding Digital Cameras.




This Week in the Digital Photography School Forums (4-10 Sep '11)