You might think that in a weak economy, consumers would cut back on things like trips to Disney's (DIS) theme parks. However, its theme park revenues and earnings for the quarter ended March 31, released on Tuesday, were impressive. Its revenues were up 11%, and operating income was up 33% (DIS FY 2Q Earnings Release (pdf file)).
But, there are a couple of caveats. The press release noted:
Higher attendance was primarily driven by the benefit of the shift of the Easter holiday.
The other caveat was that the number of foreign visitors to Disney's U.S. theme parks was up 25% compared to the year ago period, the Wall Street Journal cited CEO Bob Iger as saying "Disney Parks Flourish Despite Economic Drought" (subscription required), The Wall Street Journal, Wednesday May 7, B1).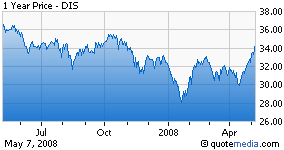 The latter really got me thinking. Disney's report is supposed to be a sign that the domestic economy isn't really as weak as some people are saying, but how much of Disney's domestic theme park strength was driven by a weak dollar and foreign visitors? If that's what's driving it, then this is consistent with a weak U.S. economy.