http://seekingalpha.com/article/103492-beginning-a-mini-bull-run-be-prepared-for-another-dip?source=feed

The recent mayhem in the stock market is making many people pull their hair out.  We're all wondering how soon the market will return to a healthy bull market so that our 401k and IRA statements will grow quarter to quarter rather than shrink.  I believe we can gain some objective perspective by studying the following chart (click to enlarge):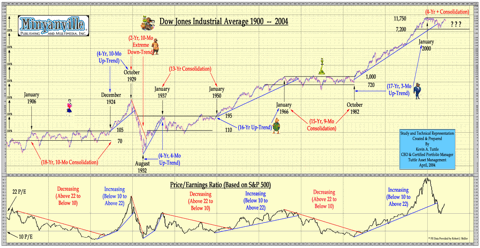 The time between 1900 to present had three periods of secular consolidation which averaged about 15 years in duration. These consolidation periods contained many mini bull & bear markets, but the DOW value remained about the same from beginning to end.   
So, we see that we are now eight years into a current consolidation phase beginning in 2000. 
Yes, we had a nice bull run from 2003 to October 2007, but we all know that we recently reverted back to the lows from 2002.  Therefore, if history is to repeat itself, we will likely see the market rally past 12k before returning to 8k. This may happen two or three more times over the next seven years.  We may have seen the bottom when the DOW dipped below 8k, but we may see it again a few more times until about 2015.
After this 15 year consolidation period, we will look forward to the next secular bull market, which may last 16-17 years.  Look at the period from 1950 to 1966 and again from 1982 until 2000; we would all love to see that again and I believe we will - just not until after the current consolidation phase, which may not be over until 2015. According to the charts, we are at the beginning of a mini bull run, but be prepared to face reality with another dip down to the recent lows.  This chart should help us to refer back to the big picture, giving us an objective guide to better plan our investment strategies.